10
Easy
Ways
to
Build
Small
Business
Brand
Awareness
Online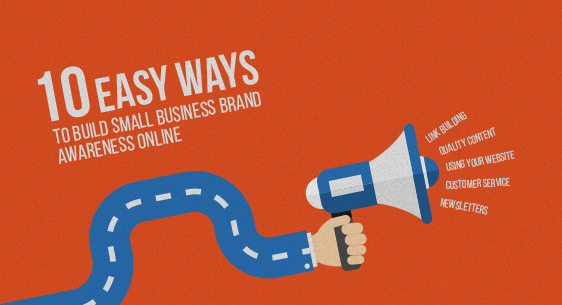 Building and expanding your brand online can be much easier than you ever imagined. In fact, you do not have to possess prior marketing experience or invest a lot of money to get people to notice the products or services that you offer.
When you want to target your audience and gain new customers, it is important to avoid overthinking your marketing plan or being unwilling to try out new and innovative approaches. You can build brand awareness by utilizing these 10 easy, yet simple approaches.
Establish an Online Presence
These strategies allow you to build a meaningful online presence:
1. Use Your Website
Your website will be one of the primary ways you establish an online presence for your brand. A company's website is considered today to be the central component of a successful digital marketing campaign.
2. Quality content
The content that you include on your website should be fresh, factual, engaging, and most of all relevant to your customer base. It can also be tailored to your local SEO needs so that you reach both online customers and customers who live in your immediate area and can drive to your location if you have a brick and mortar store.
3. Link building:
As you set up and maintain your website, you should link build to high-quality, valid sources. This strategy builds trust and authority with Google and helps your site get ranked higher.
After you establish your brand's presence on the Internet, you can then begin to build and promote it to new levels.
Promote with Social Media Social media of the most lucrative small business SEO services that is free and easy to use.
Social media can include:
4. Blogging
Blogging allows you to give in inside perspective about your products or services. You also build rapport with your customer base. You can promote your brand with regular blog posts that are interesting and refer to the products and services you are selling.
5. Guest blogging
Guest blogging on other websites gets your brand out there and in front of new, potential customers and invites others to check out your website.
6. Social networking
When you join sites like Twitter or Facebook, you can engage your audience by hosting groups, posting or reposting status updates, sharing pictures, and more. This strategy helps you increase brand awareness.
7. Video marketing
Like social networking, video marketing on sites like YouTube and Vimeo gets your brand in front of more people and brings traffic to your site. Video marketing gives you a chance to show your personality and creativity.
Social media is quick, easy, and in many cases, free. When you use social media marketing, you have the unique opportunity to let your personality come through and help your business be more approachable and interesting to customers. As with your website, however, you should keep your social media posts updated often and make sure they are relevant to your audience.
Engage Customers Directly
While your website, blog posts, and social media updates help drive traffic to your brand, you will build consistency and trust with customers by engaging them directly. To reach out directly to your customers, you should use these strategies:
8. Press release marketing
Press release marketing can be used to announce sales, new store openings, updates or changes to your website, or any other news that you want to share with your customers. Press releases provide direct, relevant information to people who are interested in your brand and company.
9. Newsletters and emails
You can build brand awareness with emails and newsletters. These communications reach people who specifically asked to be contacted about the products and services you offer.
10. Customer service
All of today's most innovative marketing approaches are useless if you fail to provide great customer service. When customers are treated right and know that they are valued, they will remember your brand and your company and return to your website in the future.
When you want to build a brand that people will remember, you should remember to reach out to your customers directly.
Promoting your brand online can be simple, easy, and fast. These strategies help you establish your company's presence and tell customers about your products and services.