Chuck
Norris
Uses
These
10
Link-Building
Techniques
by Jet Digital Marketing

Hits: 6582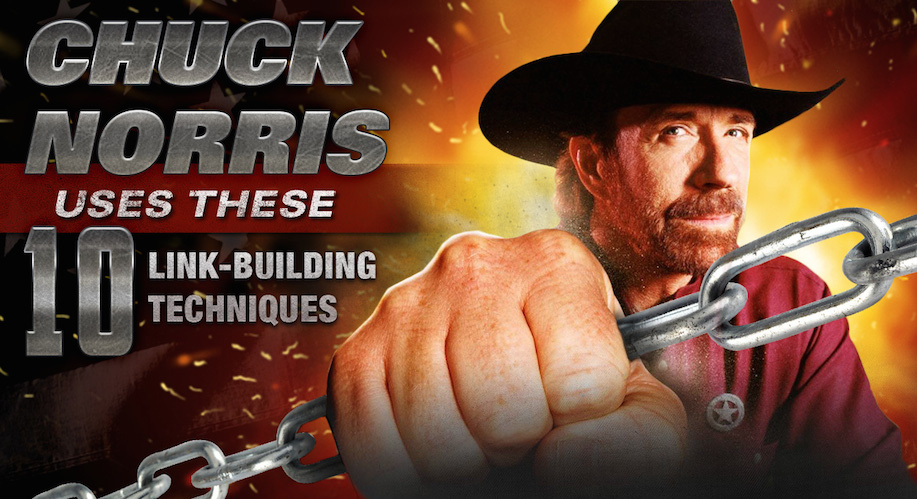 Here's a little-known fact: Chuck Norris is actually a master link builder. Follow Chuck Norris' top ten tips, and your site's SEO rankings will rise faster than Chuck Norris can throw a punch.
Chuck Norris Writes Epic Content
There's so much content out there on the Internet that you need the textual equivalent of a roundhouse kick to get noticed. Don't settle for second best. Invest in creating high-quality, unique content, and webmasters will be lining up to link to your site.
Chuck Norris Doesn't Have to Ask for Links
People ask to link to Chuck Norris' website. This is a natural consequence of Chuck Norris' first tip: When your content is awesome, you'll start to bring in links naturally. There's no need to ask every website in sight to send you traffic.
Chuck Norris Endorses This Product
Giving testimonials is a win-win for you and any company you've done business with. Just offer to say a few words about your experience with their product or service and post it on their website. They get some positive publicity, and you get a backlink.
Listen Up: Chuck Norris is Speaking
We're talking about press releases. Now, a press release with plenty of keywords and no substantive content is next to useless for SEO purposes, but that doesn't mean press releases have no place in your strategy. Announce something that's actually worth announcing, and the links will follow.
Chuck Norris Links to Chuck Norris
One of the simplest link-building strategies around is to leverage internal linking. Use a top pages report to find the pages on your website that have gathered the most inbound links, then drop links from those pages to your "money pages," like product or service pages.
Even Chuck Norris' Competitors Link to Chuck Norris
It's pretty difficult to get a direct backlink from a competitor, but that's not what we're suggesting here. Rather, find out where your competitors' pages are linking and try to get a link from that site. Now your competitors are indirectly sending traffic to you.
Chuck Norris Brings His A-Game Online
Comments, forum posts and guest posts are all great ways to link back to your site, but make sure you're adding something substantive to whatever site you're on. Google knows the difference between legitimate contributors and people just looking for a backlink.
Chuck Norris Knows When You Talk About Chuck Norris
A very simple way to get more links is to look for sites that have already mentioned your company or service and send an email asking for a link. Most webmasters will be happy to add one.
Chuck Norris Keeps Tabs on the Competition
Use tools like Link Alerts to monitor your competitors. This can reveal new opportunities to get backlinks and locate sources and techniques that you can turn to your advantage down the road.
Chuck Norris Doesn't Play Games
Successful, long-term SEO is all about growing your website organically. Trying to game the system is at best a short-term strategy, and you'll get killed by Google's next algorithm change. Focus on natural link-building to keep your site bringing in traffic for years to come.