Is
HTTPS
Important
for
SEO?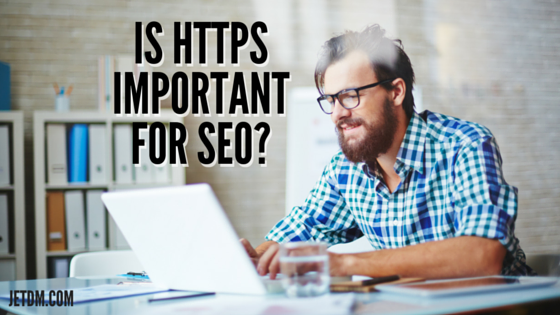 While Google is best known for caring about keywords and SEO, it also cares about security. Google prefers websites that have strong security protocols like HTTPS encryption because it prevents hacks and security breaches on a website. Due to this, websites that want to gain more search engine traffic can gain a stronger presence by having HTTPS encryption in place to appease Google.
Google Boosts Secure Sites
According to Google's Webmaster Central blog, Google is "starting to use HTTPS" as a ranking signal. Currently, this signal only affects about 1 percent of queries across the globe because Google wanted to give webmasters additional time to switch over. Over the coming months and years, Google will begin to use secure, encrypted connections as a part of their ranking algorithms.
What Is HTTPS and TLS/SSL?
The most common protocol for establishing a connection securely is Transport Layer Security (TLS). TLS is the latest version, and websites previously used Secure Sockets Layer (SSL) encryption. With TLS and SSL the website is not actually encrypted. In reality, just the connection between the viewer and the server is encrypted. All of the data that flows from the serve to the client is encrypted using a session key.
In comparison, HTTPS allows for better encryption. A normal HTTP website has unencrypted traffic, which means that anyone can read the data flowing from the server to the client. It is easy to tell if a website has additional encryption because the URL in the browser window will say HTTPS instead of HTTP. If the website is encrypted and has the HTTPS URL, then only the client and the server can theoretically see the data.
What Is The Difference Between HTTP and HTTPS?
According to Michael Hernandez at the Ahrefs blog, HTTP is a "system for transmitting and receiving information across the Internet." It is essentially a way for information to be presented to the user, and HTTP is considered stateless. This means that HTTP does not remember anything about previous browsing history and less data is sent over the connection.
HTTPS is basically a more secure version of HTTP. It is effective for financial transactions and secure exchanges because it encrypts any data that is sent from the server to the client. While it follows the same protocols as HTTP, HTTPS has an extra layer of security. Normally, HTTPS works with SSL protocols to make sure that data is transmitted safely.
What Are the SEO Advantages of Switching to HTTPS?
At the MOZ blog, Cyrus Shephard writes of the many benefits of using HTTPS. According to Shephard, "HTTPS isn't like other ranking factors." He writes that it offers, "increased security, better referral data and a possible boost in rankings." Users can enjoy having:
A boost in search engine rankings
Better security for users and the website
More referrer data than an HTTP site
Lower risk of tampering by third parties
Increased privacy
Are There Problems Associated With Using HTTPS?
As Barry Schwartz at Search Engine Land mentioned, "Google has been telling webmasters that it is safe to do so for years." While switching to HTTPS is a safe bet in terms of search engine rankings and traffic, there are some problems associated with using HTTPS.
Users may have problems with:
Unintentionally blocking the website from crawling
Choosing what type of security certificate is needed
Using relative URLS on the same domain
Ensuring that pages can be indexed
Using 2048-bit key certificates
While these problems may seem daunting initially, they are fairly easy to overcome. The SEO benefits of higher search engine rankings and better security far outweigh any initial issues with HTTPS. To ensure the best search engine rankings, websites should convert to more secure protocols.
Looking for more tips on website optimization, SEO, and building your companies online presence? Check out some of our blog posts like 15 Responsive Web Design Developer Tips and Best Practices and Mobilegeddon 2.0: Why Having a Mobile-Friendly Site is Critical in 2016. Follow Jet Digital Marketing on Twitter and Facebook for all the latest insights into digital marketing and growing your business online. Contact us today if you would like to learn more about our digital marketing solutions.