The
Complete
8-Step
Blogging
Guide
for
the
Busy
Business
Owner
by Jet Digital Marketing

Hits: 8506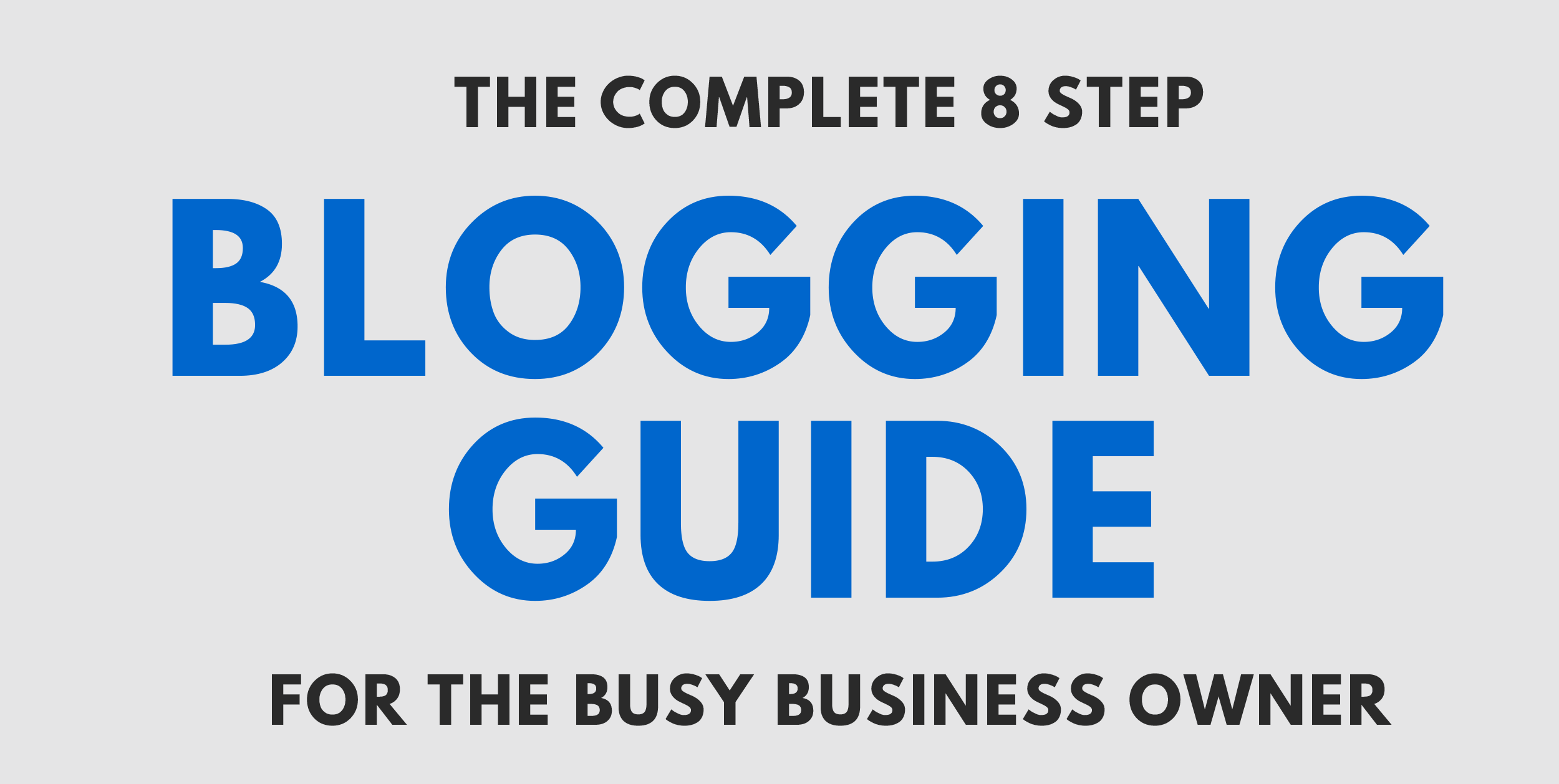 Many business owners appreciate the importance of maintaining an active blog for their clients. Blogs provide the ideal venue for pitching new products and services, announcing changes to the company, and otherwise engaging your audience. Blogs also offer an excellent way to provide engaging content that will compliment your SEO strategies and have a positive impact on your search engine rankings.
However, as important as a blog can be you may lack both the time and the necessary skills to devote to this crucial task. Fortunately, you can maintain an interesting and informative blog by using these eight blogging resources for busy business owners.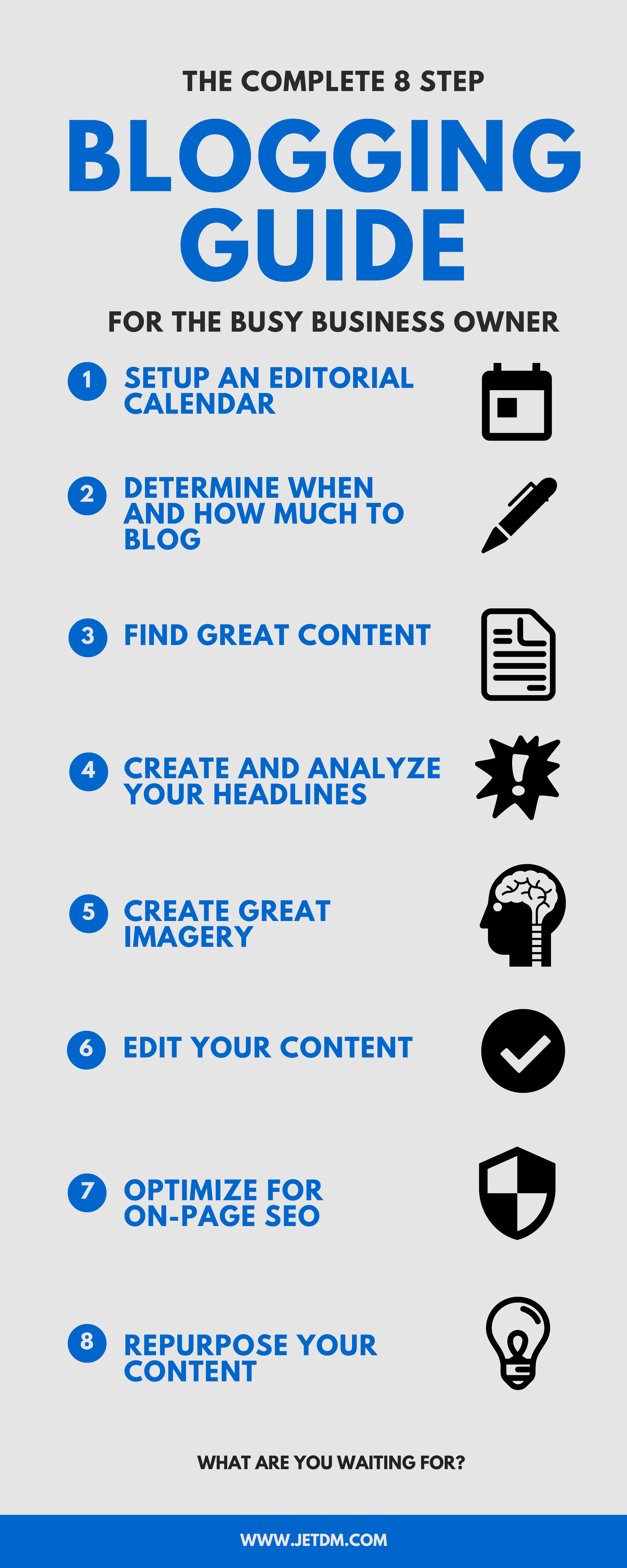 1. Set Up an Editorial Calendar
Coming up with something interesting, witty, and helpful to say on a regular basis to your audience can be stressful if you must focus on your company's daily operations. Rather than post something irrelevant or miss out on posting altogether, you can set up your blog posts in advance by using an editorial calendar.
You can even download a free template for an editorial calendar at http://coschedule.com/editorial-calendar-template. Once you have this template, you can then plan out your posts, the content, and images you would like to share for weeks and months in advance.
2. Determine When and How Much to Blog
As you fill out your editorial calendar, you may wonder how often and what kind of content you should blog. When it comes to blogging for business owners, the notion of too much of a good thing should be discarded. In fact, the more you blog the more you will reach your audience and generate traffic to your business.
However, you should also gauge how much to blog based on your company's size. Most medium and large companies fare well with at least 16 new posts per month while smaller companies do better with 11 blog posts on a monthly basis.
3. Find Great Content
Along with posting on a regular basis, you need to consider the type of content you should ideally share with your audience. Your blog should answer your customers' questions, match your audience's intent for visiting your website, and meet their demands.
If you do not plan to create the content yourself, you can find content that will serve all of these purposes at sites like Quora, Stack Exchange, Reddit, and LinkedIn. Other favorite sites include Hacker News, GrowthHackers, Disqus, and Twitter.
4. Create and Analyze Your Headlines
Your customers will take note of your blog's headlines first. Your headlines must be strong, interesting, and invite your audience to read the rest of your post. In fact, in many cases eight out of 10 people will read a blog's headlines, but only two will continue to read the rest of the content.
When you want to increase the number of blog readers, you can use headline topic generators like those found at http://www.hubspot.com/blog-topic-generator, as well as analyze your headlines at http://coschedule.com/headline-analyzer. These resources will ensure that people read both your headlines and your blog posts.
5. Create Great Imagery
Along with your headlines, your blog's imagery will also draw people to your business. Because of how vital imagery is to your blog, you may want to have as much creative control over your images as possible.
Image creators like those found at https://www.canva.com invite you to create images that serve your blog and your audience. This easy-to-use tool gives you the creative control to select what images you want to use, as well as create the text and download the image to your website.
6. Edit Your Content
Your customers will be quick to spot errors in your blog's content. Simple spelling mistakes or grammar errors cast your business in an unfavorable light and could negatively impact how your audience views you and your company.
When you want your content to be as readable and error-free as possible, you should use resources like Grammarly and Correctica. These tools will catch mistakes and give you a chance to correct them before you post the content to your blog.
7. Optimize for on-page SEO
When you first create your blog's content, you may be overly worried about your keyword count and whether or not you have enough keywords to get your site ranked. However, it is important not to artificially manipulate your keyword count if you want to avoid running afoul of Google.
Instead, go back and reread your content, looking for ways to include your keywords naturally without altering your readers' experience. You also should avoid keyword stuffing because this misstep makes your blog difficult to read and undermines your SEO goals.
8. Repurpose Your Content
It only makes good business sense to share your blog content in as many forms as possible. Repurposing your blog content lets you reach more people and generate more traffic to your website. Some of the ways that you can repurpose your blog include sharing it in email newsletters, creating website videos based on the blog topics, using it in social media posts, and creating ebooks and webinars based on it. These ideas let you spread your content and expand your company's reach to new customers.
Blogs are vital resources to utilize when you are growing your business. You can maintain an active and informative blog by using these eight blogging tools designed for today's busy business owners. Should you decide to outsource some of your digital marketing to a local SEO services provider, you should be sure that any SEO package you consider investing in, includes strategies for blogging.