Top
23
Keyword
Research
Tools
of
All
Time
by Jet Digital Marketing

Hits: 24368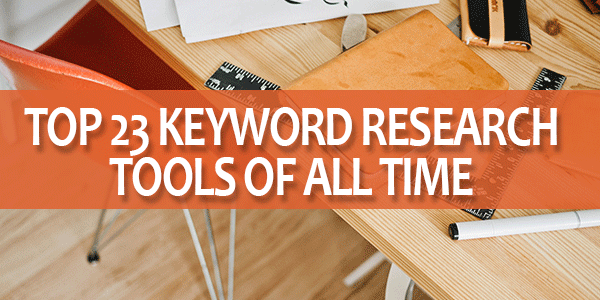 Creating and growing a successful online business today requires that you use know your audience and be ready to take advantage of the Internet's most popular trends. By using any of the these 23 online available resources, you can create websites, start online businesses, and build virtual brands that will reach your targeted client base and remain relevant among your online competitors all starting out with the correct keyword research to find what keywords are relevant to your target audience.

Google Keyword Planner

Designed ideally for Adwords advertisers, Google Keyword Planner allows users to create spreadsheet lists of keywords. You can also get an approximate idea of search volume and conduct research about the most popular keywords.


SEOQuake

SEOQuake provides a toolbar service that can be downloaded to Firefox, Opera, or Chrome browsers. You can also customize the parameters for your toolbar and check out the top 10 page strengths of your competitors using this service.


SEMRush

SEMRush provides competition analysis. When you use this service, you learn how to phrase your advertising text so that you can keep pace with or outperform your competitors. You can also find out how much your competition is spending and how their products or services are advertised and marketed.


Market Samurai

Market Samurai helps people with keyword searches and teaches them how to monetize better. It also provides SEO intelligence, rank tracking, and helps people grow their residual income by providing better exposure for their websites or online businesses. You can try Market Samurai by taking advantage of its free trial period.



Long Tail Pro

Long Tail Pro strives to help people get more leads and buyers by providing keyword tracking. It can also help people target their website's traffic better. It comes with a free trial with no credit card needed.


Micro Niche Finder

When you want to find out what niche markets are popular right now, you can use Micro Niche Finder to determine what keywords and markets to target. This service also helps you estimate what kind of return you can expect before investing money into these markets.
Wordstream's Keyword Tool offers a free trial for people who want to increase click conversion and increase their search engine ranking. This service also helps you reduce your costs and generate more leads to your website.


Jaaxy

Jaaxy offers a free trial period for those who want to check out the latest niche markets and perform keyword research. You can find out how many websites are available for the most popular keywords today and also check out your competition's metrics.


Google Trends

Google Trends is a free service that lets you find out the most popular searches on Google, what videos are being watched most frequently on YouTube, and even what keywords are popular in each state. This service lets you tailor your website and target your desired audience better.


Word Tracker

Word Tracker finds the keywords that have the highest performances and also provides research on niche markets. You can sign up for monthly offers via email that instruct you on how to increase rankings and build a better website for your intended audience. It comes with a free 7-day trial.


ScrapeBox

ScrapeBox provides competitor analysis and research, as well as allows you to harvest links that pertain to your keywords. It provides task automation and lets you customize search engines. It also provides proxy support to help you avoid IP blocking.


Moz

With its free 30-day trial, Moz helps you increase your rankings and get published in more venues on the Internet. When you sign up for this service, you can have your business advertised on social networking sites, get published in search engines, and increase your exposure in your local market.


Uber Suggest

Uber Suggest helps you get keywords based off your own search terms. You can also track your rankings and check out your competitors using this service. It comes with a free trial period.


Twitter

Signing up for a Twitter account is free and easy. You can use the keywords, search terms, and hashtags to discover the trends of the moment. You can also tailor your website for the social, political, or seasonal events that are occurring on any given day.


KWFinder.com

Using KWFinder.com does not require that you have an AdWords account. You get instant access without having to install anything to your computer as well.


KeywordTool.io

Recommended by Rand Fishkin, KeywordTool.io proves to be a easy to use and free to boot. It is touted as an alternative to Google Keyword Planner and can generate up to 750 results for each keyword.


Keyword Advantage

Keyword Advantage grants instant access to this service for a low one-time fee. It provides keywords for untapped markets and also provides information on popular niche markets today. It likewise details search engine rankings based on keywords.


Rank Tracker by Link-Assistant

This service provides you with your rankings on Yahoo and Google. It is free to download and supports 325 different search engines.


Google Webmaster Tools

Google Webmaster Tools can detect any issues with your website and also help you understand your site's traffic better. It lets you know how many people use your site and for what purpose. It assist you in optimizing your site for better traffic and ranking.


Google Analytics

Google Analytics is free to use and can also be used for mobile applications, as well as websites. It is designed to help you identify better marketing strategies for your sites' audiences.


Google Auto Suggest

Google Auto Suggest provides keyword predictions based on search terms. You can find out what terms are being searched for most often and choose keywords for your purpose accordingly.


Traffic Travis

Traffic Travis checks SEO relevance and helps you increase your online ranking by finding out what your competitors are doing to perform better. This service is free to download.


Sg.serpstat.com

Sg.Serpstat.com is free to use and provides search suggestions based on what keywords are most popular right now. It helps you discover what products and services people are frequently looking for online.


These online resources can help you build a business that will outperform your competition. You can tailor your website and target your desired audience by using these services to your advantage and finding the keywords your preferred audience are searching. For more tips delivered straight to your inbox, sign up for our newsletter and get tips on getting more leads and converting your clients today!