7
Tips
to
Design
a
Homepage
that
Converts
by Robert Boulds

Hits: 5706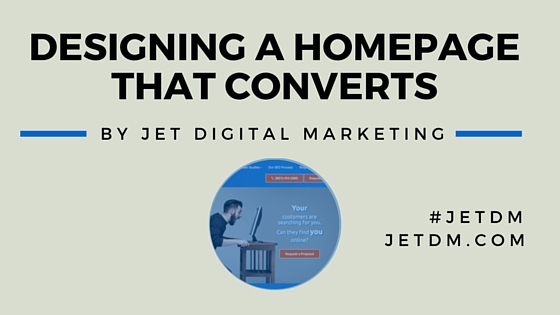 Your business' success depends on its online homepage. You can reduce your bounce rate and enjoy higher conversion rates by using these seven homepage elements.
As an online business owner, you need to keep your website's bounce rate as low as possible. Keeping the bounce rate low requires that you entice people to stay on your site longer, follow through with clicking on links, and ultimately buying whatever it is you are selling. You can encourage conversion of sales and garner repeat business when you include these seven elements on your website's homepage.
Company Name and Brand Logo
The most obvious element to include on your page is your company's name and your business logo. Customers obviously want to know that they are on the right website for your business. They also need a visual clue to connect with your brand.
Your logo and your company's name establish this connection and assure customers that they are visiting your site rather than the site of one of your competitors. Your business' name and logo should be plainly visible and ideally placed in a prominent location, such as the top of your homepage.
Headline and Sub-Headline
Along with your name and logo, you should include both a headline and a sub-headline on the homepage. The headline immediately introduces customers to your website and tells them what they should expect when visiting your page. Your headline should be short, concise, and get directly to the point.
A sub-headline also should be concise and well-worded. It should immediately establish a common point with your customers and give a bit more insight on what they will find on your website. Like your logo and company name, your headline and sub-headline should be placed prominently on the page.
Call-to-Action
Your call-to-action arguably is one of the most important elements to include on your homepage. It invites customers to buy from you and also retains their attention longer.
It induces them to follow through by clicking on one of your page's links or checking out other sections of your website. These actions reduce your bounce rate and increase your rate of conversion.
Your call-to-action should be assertively and positively worded. It should also be placed in an area of your homepage where it is visible and most likely to be heeded by people who visit your website.
Visualization
Visual cues work hand-in-hand with your call-to-action. Many people will not buy something unless they can see a picture of it first. They want to know for sure what they are investing in and what to expect once it is delivered to them.
It is important that you use genuine photos and videos on your homepage rather than generic stock images. Genuine visualizations help build an emotional and empathetic connection with your client base. They also encourage high conversion rates on your website. Easy Navigation Few things will deter people from following through on a website than difficult navigation. When people have to search for how to find links and pages on your site, they often will leave in favor of websites that are easier to use. You can make navigating your website easier and more fun by including a search field, drop down menus, highlighted links, and other navigation cues on your business' homepage. When people see immediately that they can easily find what they are looking for, they are more likely to stay longer and follow through with clicking and buying something.
Email Opt-In Form
The success of your website depends greatly on garnering repeat business. You need first-time customers to come back and buy from you again.
You can encourage their repeat business by displaying an email opt-in form on your homepage. The form should be highly visible and prominently displayed on the page. You should include a call-to-action to encourage people to sign up for email newsletters, promotions, sales, and other relevant news from your company.
Contact Options
Customers feel more at ease buying from online businesses that clearly display their customer service contact options. They want to know that they can get help with questions and concerns. Some of the details to put on your homepage are:
Your business' physical address
The phone number for customer service
Email address
Social media plug-ins
These details are important to encouraging a higher rate of conversion on your page.
Your business' success depends on its online homepage. You can reduce your bounce rate and enjoy higher conversion by using these seven homepage elements.
If you found these tips useful please share it with your friends, and check out some of our other related blog posts like The Complete 8-Step Blogging Guide for the Busy Business Owner, or 15 Tips to Reduce the Bounce Rate on your Website. Follow Jet Digital Marketing on Twitter and Facebook for all the latest insights into digital marketing and growing your business online. Contact us today if you would like to learn more about our digital marketing solutions.