15
Tips
to
Reduce
the
Bounce
Rate
on
your
Website
by Jet Digital Marketing

Hits: 5813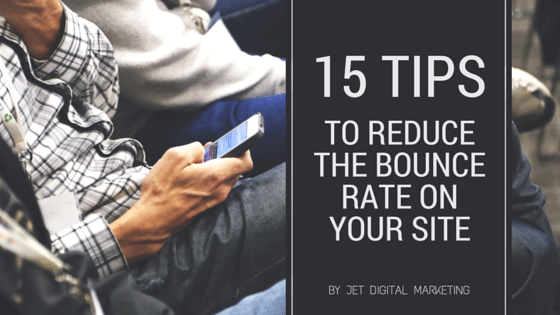 When you want your website to garner as high a rating as possible, it is important that you keep your site's bounce rate low. Bounce rates refer to the number of times people visit your website, but then fail to follow through with buying anything, signing up for a newsletter or special offers, or clicking on another section of the website.
High bounce rates indicate that your website may be floundering and could result in your site being ranked lower than your competitors. You can entice one-time visitors to follow through with meaningful actions on your site by using these 15 strategies to reduce your bounce rate.
Increase Your Site's Speed
Statistics prove that people will give a website about four seconds to load before leaving in favor of another website. When you want to keep people on your page, you must keep your speeds as fast as possible. You can check your site's speeds by using resources like Google PageSpeed.
Include a Call-to-Action Button
By inviting your visitors to act, you can reduce your bounce rates. Include a link or button that has the words "Click Now!" or "Sign up for Our Newsletter" to invite people to go to another part of your website or buy something from you.
Reduce Distractions
Busy, overly dazzling websites are a turn-off for most people. You can get them to stay, click, and shop by reducing the distractions on your site and by using simpler, clearer graphics and text.
Use External Links
External links are a great way to get people to visit another part of your site. By linking to other parts of your website or to other sources, you improve your bounce rate and get people to stay on your site longer.
Set Realistic Expectations
As enticing as you may intend your site to be, you cannot please everyone. Instead, you should set realistic expectations for your bounce rate and for keeping people on your page. For example, if you have an online blog your benchmark rate should be between 70 to 98 percent. If you run an e-commerce site, your benchmark should be around 20 to 40 percent.
Attract the Right Audience
When you have a specific audience in mind, you need to make sure they find you. You can reduce the bounce rate and get those people to your site by using the right keywords and by writing helpful meta descriptions for search engine users. If you work with an SEO company, they will provide you with recommendations for choosing the best keywords and optimizing your meta descriptions.
Enhance Usability
Keeping your bounce rate low calls for you to make your site as usable as possible. To enhance its usability, you should use good color contrast, utilize larger fonts, write large headlines, include bullet lists for readability, use white space, and organize your site in a logical and user-friendly manner.
Use a Good Layout
Along with enhancing its usability, you must use a good layout on your website. Tactics like including an easy-to-find search field, utilizing quick navigation features, and organizing your content into sections will help keep your bounce rate within your benchmark percentage.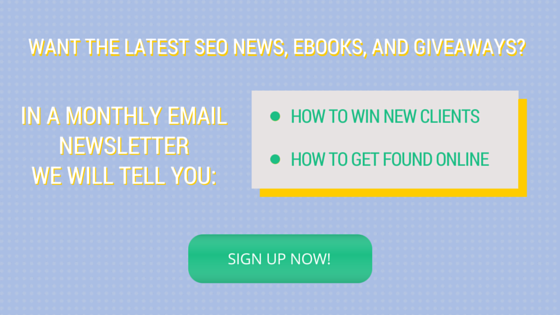 Provide Good Content
The quality of your content will go a long way in determining your bounce rate. When you want people to stay and visit different sections of your site or buy something from you, you need to include interesting and engaging content that will keep them locked onto your site longer.
Use Good, Strong Headlines
Introducing people to your content calls for you to use solid headlines. The headlines are the most important feature arguably on your site. Your headlines should be written from the visitor's point of view, make the person feel welcome and validated, and refer to the core message of your content.
Break Up Walls of Text
Few things will turn away people from your site than a massive wall of text. You can put them at ease and entice them to stay by using easy-to-read tactics like bullet lists, graphics, illustrations, pictures, videos, and small paragraphs.
Keep Content Updated
Another thing that will increase your bounce rate is outdated information. People do not want to stay on a page that has information that is several months or years out of date. You can keep them engaged and interested in your core message by updating your content frequently and making sure statistics and details on your page are relevant and fresh.
Place Fresh Blogs away from Home Page
When you put your updated blogs on your home page, you invite people to read that blog and then leave without clicking on another section of your site. By placing the updated blogs and content on other parts of your site, you can reduce your bounce rate significantly.
Use Advertising that is Relevant to Landing Page
People who visit your site expect to see advertising that pertains to the purpose and the contents of your site. If you sell camping gear and weapons on your site but feature advertising for toys or makeup, for example, you are going to increase your bounce rate. Your advertising should match your landing page.
Avoid Auto-playing Videos
Having your video blasting at people who are newly arrived to your site can be abrupt and rude. Even if the video speaks to the core purpose of your site, you should disengage autoplay and instead let people decide whether or not to click on it. This courtesy will lower your bounce rate.
Quality SEO service packages will include recommndations to lower bounce rates, since bounce rate impacts how well a website ranks in the search results, and keeping your site's bounce rate low helps you improve your website's ranking and traffic. These simple tactics can help you lower your bounce rate significantly.