The
Pros
and
Cons
of
DIY
Websites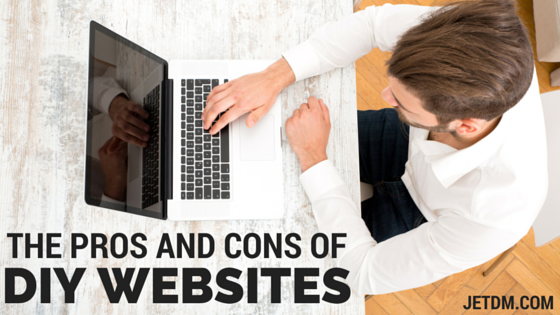 An attractive, engaging, and useful website is one of the most important resources for any successful business today. When you launch your company, you may wonder if it is better for you to build your own website or if you would be wiser to hire someone to make a website for you. You can make this important decision by learning about the pros and cons of both do-it-yourself and custom web design services.
DIY Pros and Cons
Templates for building websites can be found quite easily online. Before you decide whether or not to use one of these templates for your own website creation purpose, you should understand the pros and cons of this choice.
Some of the pros that can be found with using a DIY website template include:
Low cost, which can be great if you have a tight budget for creating a website
Shorter time span to create and launch
Ability to create without having to know coding like HTML
As attractive as these benefits of DIY website building may be, there are some downsides, such as:
Lack of uniqueness; your competitors may be using the same templates for their sites
Limited customization options Templates are sometimes not search engine-friendly
Templates may not display right in certain browsers
Limited support services for glitches or issues
Images can only be put in predetermined locations within the template
Customized Website Pros and Cons
When you want a website that will engage customers, encourage a high click-to-conversion rate, and keep customers coming back, you should consider customized website creation services.
A customized website service offers you advantages like:
Tailored website that is unique to your business and stands apart from your competitors
Customized brand reflection that helps customers associate your company with the products and services they need or want
No worries about having to figure out HTML and other types of website coding
Support services if your website goes down or experiences other glitches
Full ownership of a website that is made just for your business and brand
These perks can definitely help your business get off the ground and garner the customer loyalty and recognition that you need to profit. Even so, you may consider a few minor cons of customized website creation services that could impact your decision.
These cons include:
Expense: Customized websites typically cost a bit more than using a DIY template
Time: You may need to wait a few days or weeks for your website to be created
Your business's website is the foundation for your success. You can create one that will be an asset now and in the future by choosing between DIY or customized website creation.
Presumably no one can predict the hour and day when search engine optimization will meet its end. You can discover the revelation for online success, profit, and higher rankings by saddling up with the Four Horseman of the SEO Apocalypse.
Looking for more tips on website optimization and building your companies online presence? Check out some of our blog posts like The Obstacles to Becoming an American SEO Ninja Warrior and On-Page vs Off-Page SEO. Follow Jet Digital Marketing on Twitter and Facebook for all the latest insights into digital marketing and growing your business online. Contact us today if you would like to learn more about our digital marketing solutions.