Top
10
Quick
Tips
to
Optimize
your
PPC
Campaigns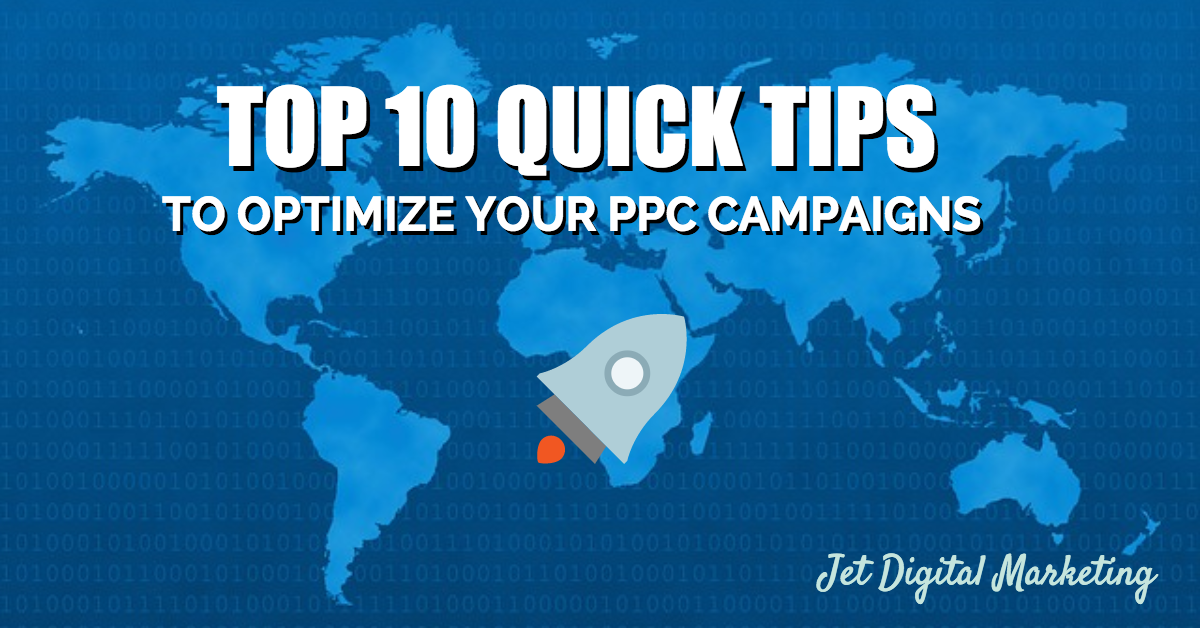 When you are running a pay per click campaign, it is crucial to your success that you reach your targeted audience. By using these 10 quick tips, you can optimize your efforts and increase the traffic to your online business.
1. Know your products: A successful PPC campaign requires that you know the products you are trying to sell inside and out. By knowing your inventory, you can design PPC centered around it.
2. Spend less on ads than you selling your products: It does not make good financial sense to spend more on a PPC ad than what the ad is actually selling. Stay profitable by making sure your ads do not cost more than the products themselves.
3. Quality versus keyword quantity: When it comes to choosing keywords for your PPC ads, you should select those that will help you reach your PPC goals. Focus on quality keywords rather than the quantity that you are actually using.
4. Test your landing pages: As with selecting keywords, it is important that you test your landing pages with the various ad groups you are running. You should try different variations to ensure each one is bringing in a PPC rate of more than one percent. Eliminate or revise those pages that have low PPC rates.
5. Expand on campaigns that are working for you: You can optimize your PPC efforts by putting money back into those campaigns that are working the best for you. By expanding those campaigns, you increase your profits and bring in more money to launch new PPC later if you choose.
6. Experiment with ad text: Experimenting with your ad text allows you to identify your highest performing versions and which ones need to be eliminated or revised. Revising underperforming ad text can lead to higher PPC rates. 7. Separate display network from search traffic: Separating your display network allows you to get rid of traffic that is not relevant to your PPC goals. You should use ad variations, utilize new creativity, and overall keep things fresh to increase your PPC rates.
8. Use ad extensions: The most successful of PPC campaigns make use of ad extensions. They are free and easy to use. They also increase your visibility in search results and bring searchers to ad-specific landing pages.
9. Make your PPC campaign mobile: With more people using their smartphones and tablets, you want to target your audience by also making your PPC ads mobile. You should also make your mobile PPC campaigns specific to the geographic area if you are running a local campaign instead of a generic one.
10. Identify negative keywords: Increasing your profits and optimizing your PPC efforts requires that you identify negative keywords that could cost you money. You do not want to risk your ads showing for searches that are not specific to the products you are selling.
These 10 easy and fast tips can give you the tools to optimize your PPC campaign. They also can increase traffic and profitability. For more recommendations for improving AdWords performance or further optimizing your PPC campaign, please check out these related blog posts about increasing your AdWords quality score and the beginner's PPC checklist. Follow Jet Digital Marketing on Twitter and Facebook for all the latest insights into growing your business online. Contact us today if you would like to learn more about our PPC management services.