A
Beginners
Guide
to
SEO
for
Amazon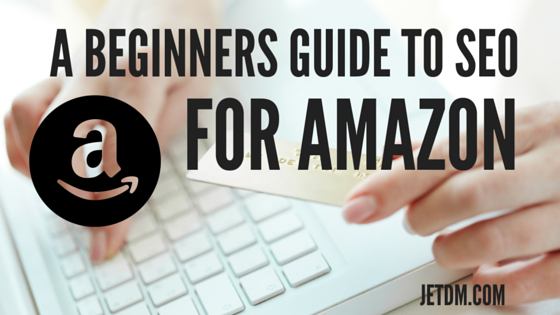 While Google may be the largest search engine in the world for now, Amazon is a huge buying search engine that many product-oriented companies are beginning to notice. Amazon is one search engine where searchers are more oriented to buy, and its increased popularity is the main reason that business owners need to learn how to use SEO on Amazon.
According to Lauren Shepherd with Teikametrics, "Amazon is the search engine you should be most concerned about optimizing if you are in the eCommerce industry." This means that businesses that cannot learn Amazon SEO techniques are losing out on one of the biggest online marketplaces in existence.
How to Do Amazon Keyword Research
There are many different ways that individuals can optimize their products for Amazon. Since this is an e-commerce website, shoppers most likely type in different keywords than they would for a normal search engine. Despite that drawback, the Google Keyword Planner can be used to get a general idea about how product keywords will do. Business owners must keep in mind that the Google Keyword Planner uses keywords from every type of search, so the company will still have to optimize their products for primarily product-related searches.
Jill Kocher at Practical E-commerce mentions that Google "at least provides open access to its Adwords keywords tool." Unfortunately, Amazon does not provide the same service. To research keywords, business must get creative to optimize their web presence. Additional research must be done to find keywords that can help boost the company's Amazon ranking. To do this, businesses can use online keyword tools to begin researching the right words and phrases.
One of the last ways to research keywords and SEO on Amazon is with Amazon Autosuggest. This tool lets customers choose a search phrase or keyword based on what they have already typed. Popular keyword tools like the Scientific Seller Keyword Tool are designed to work with autosuggest to find the most relevant keyword matches. The Scientific Seller Keyword Tool is extremely focused, and it turns out a list of 10 or even 100 keywords for every search.
Amazon Ranking Factors
According to Zoncommerce, on Amazon, some factors like the title, sales history, keywords, price, options, and availability are thought to determine whether a specific product appears within the search results. Amazon is thought to deliberately place better-selling products near the top of the results, so products that sell more rank higher. Likewise, the products conversion rate is thought to help determine the product's ranking.
The Importance of the Product Title
The product title is one of the main places you should spend your energy developing and crafting for the best search engine visibility. Nathan Grimm, an author at Moz.com, states that "the title of a product is one of the most important places to include keywords." Some things you should remember to incorporate in the title of your product according to Grimm are your "brand and description, product line, material or key ingredient, color, size, [and] quantity." You should remember to include important keywords relevant to your product without keyword stuffing, because keyword stuffing could harm your rankings. If you are debating whether the title you chose for your product has too many keywords incorporated, always check with a specialist to ensure you will not be penalized.
General Description Tips
According to John Lincoln, author and CEO of Ignite Visibility, the "maximum length of each product description is 2,000 characters." This means that companies have about 300 words to write about their product before Amazon cuts off the description. The character count includes HTML and formatting, so businesses should be careful not to go over the word count.
Within the description, sales writing should be used to differentiate the product. Avoid generic descriptions that can be found on any product description. Instead, focus on the benefits, descriptive words and a call-to-action. By doing this, companies can transform casual shoppers into committed buyers.
Other Factors that are Thought to Help a Product Rank Highly on Amazon:
High-quality images
A competitive price for the product
Include the right search term options in Seller Central
Accurately filled out filter fields
Sales rank
Customer reviews
With the right approach, companies can increase their product's ranking on Amazon. As one of the largest e-commerce websites in the world, Amazon can determine whether a product is successful or a flop. By carefully tailoring the description and SEO factors, businesses can ensure that their product performs its best.
Looking for more beginner tips on SEO, digital marketing or building your company's online presence? Check out some of our latest blog posts like Managing Your Business's Online Reputation and 10 Easy Ways to Build Brand Awareness Online. Follow Jet Digital Marketing on Twitter and Facebook for all the latest insights into digital marketing and growing your business online. Contact us today if you would like to learn more about our digital marketing solutions.