Can
your
local
customers
find
you?
by Jet Digital Marketing

Hits: 4614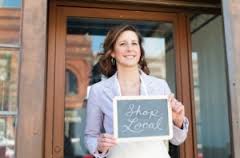 Why is local search important? To start with, when you do a search in a major search engine like Bing, Yahoo or Google, the default results you receive are local results. The next time you search for "Mexican restaurant" notice if the first results are local and if they also include a map. Not every search will return local results, but if it's for a type of consumable, service, etc. it's highly likely the returned results will be local.
Research shows us that over 80% of people use the internet and search engines to do their buying research and around 30 to 40% of those searches are targeted local search results. If we consider these statistics alone it should be clear why, as a local business, you need to make sure your business is relevant to local search results.
For many years businesses didn't really care where they were searched and the origins of those searches. Only recently has it become more and more important to develop a strong local search presence. This is especially true for local brick and mortar business that serve their community.
Here are a few reasons why you should care about local search results:
Local search is increasingly more relevant to peoples' search for goods and services and businesses of all types are realigning their online marketing strategy to capitalize on this trend
By default searches for goods, services and types of businesses are local to based on the origin of the search. This is also true on mobile devices
Phone Books/Yellow Pages are becoming less relevant every day
The increased importance of social media and user generated content sharing sites has also driven the growth of local content. Sites like Foursquare and Yelp! are good examples
One good thing about the growth of local search results is that they are far less competitive than global/national search, so it's much less intimidating or difficult to rank locally. If you have the right search engine marketing solution in place it's only a matter of time before your business will begin ranking locally. However, local search is big business and understanding how it works will be a huge factor in determining the future success of your business.
It's critical to capitalizer on the local trend now. It will enable you to secure the most advantageous presence for your business AND position you to stay on top of changes and developments as they occur. With local search, as with most other business and internet endeavors, the early bird gets the worm.