Devising
a
Strategy
to
Acquire
Online
Reviews
by Jet Digital Marketing

Hits: 2119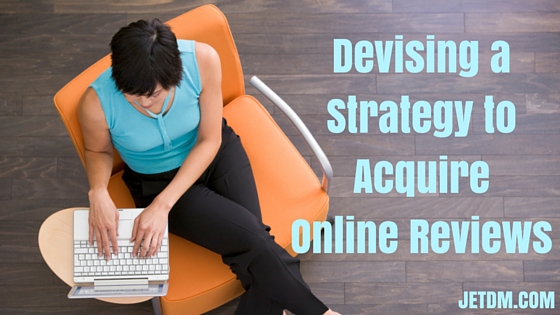 Seeking out and acquiring reviews of your business calls for you to implement a reasonable and assertive strategy that will encourage customers to post about their experiences with your company and its products or services.
Your strategy should take into consideration the rules that most search engines have in place regarding online reviews. For example, Yelp will not allow business owners to solicit online reviews from customers. If it suspects that you have been asking for reviews, Yelp could negatively act out against you.
However, most of the other search engines are open to strategies that allow you to cultivate the reviews of customers who have shopped at and purchased products and services from you. Some of the more common ways to invite reviews involves linking your review profile to your business's website. You can also send out emails to customers reminding them to review your company and providing them with a link to where their reviews can be posted.
When it comes to this aspect of digital marketing, Utah business owners like you can print materials that provide lists of where online reviews can be posted. Placing them around your business makes it easy for customers to learn how they can review your company online.
As important as online reviews are, however, you should avoid some practices that could result in your business's decrease in rank. You should not, for example, post fake reviews of your company. You also should not pay a third-party entity to post fake reviews of your business. These practices, along with posting too many reviews at one time, signal to search engines that the reviews could be fraudulent.
Acquiring online reviews is important to your business's success. You should devise a strategy that garners legitimate and favorable reviews online.
Looking for more tips about online reviews, local SEO, or building your company's online presence? Check out some of our latest blog posts like The Role of Online Reviews in Local SEO and 10 Easy Ways to Build Brand Awareness Online. Follow Jet Digital Marketing on Twitter and Facebook for all the latest insights into digital marketing and growing your business online. Contact us today if you would like to learn more about our digital marketing solutions.