How
Online
Reviews
Influence
the
Local
SEO
and
Profitability
of
Your
Business
by Jet Digital Marketing

Hits: 2847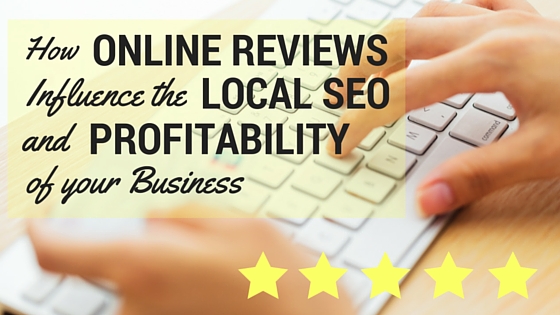 Did you know that 90% of customers say online reviews influence their buying decisions? Business owners have long relied on established customers' word of mouth to grow their companies. Thanks to the Internet, both good and bad customer reviews have taken on a new level of importance in today's competitive business market.
In fact, online reviews can significantly impact your business' profitability and ability to reach new customers. Reviews posted by customers online can influence:
New and potential customers' buying decisions
What search engine results get clicked on by customers
Your business' online ranking
Your company's overall online reputation
Because the input of your customers play into your business' local SEO so significantly, it is important that you devote time and care to cultivate the favorable reviews of your audience.
In reality, you have little control over what your customers post about your business online. Still, it is possible for you to garner favor with them by providing them with the best service possible, of course. You should also invite your best customers to review your business online.
So how do you approach customers and ask them to give your business a great review online?

You can cultivate these reviews in several key ways. First, you can set up and maintain active social networking profiles. By providing social media plugins on your business' website, you provide an easy way for customers to engage with and review your business on the Internet.
You can also garner positive reviews by reminding customers via email or by printing the link to your company on your business cards or on customers' receipts. Seeking out online reviews and making the most positive impression possible with your customers should be a intricate part of your local search marketing strategy. These reviews can be crucial to growing your business to new levels.
Looking for more tips on building your company's online presence? Check out some of our latest blog posts like 7 Beginner Local SEO Tips Every Small Business Owner Should Know and 10 Easy Ways to Build Brand Awareness Online. Follow Jet Digital Marketing on Twitter and Facebook for all the latest insights into digital marketing and growing your business online. Contact us today if you would like to learn more about our digital marketing solutions.