How
to
Use
Twitter
for
Business
Marketing:
15
Tips
by Jet Digital Marketing

Hits: 5515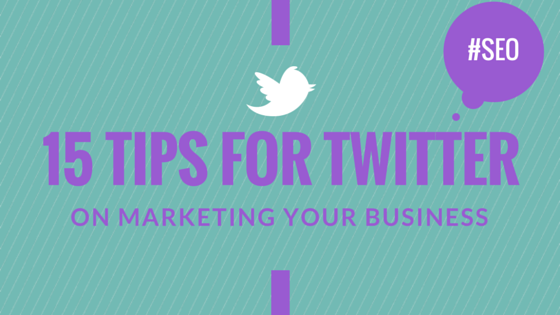 More business owners are finding out that social media can be a powerful resource for growth and success. Sites like Twitter can make it much easier for hopeful business owners to launch their ventures and reach their targeted audience.
When you aim to build a loyal following and garner the favor with customers that will ensure your business' longevity, you must learn to incorporate social networking with your digital marketing plans. These strategies will help you market to your targeted customer base and quickly build a brand that your audience will be loyal to and recognize.
Watch and Learn
If you are a novice Twitter user, you should watch and learn from your competitors. When you understand how they are using this platform to succeed, you can follow suit, adjust, and create a social media marketing plan that will work perfectly for your business.
Engaging before Selling
Entrepreneurs who use Twitter often find success by using an 80/20 rule for their tweets. They spend 80 percent of their time on this site retweeting posts and replying to their followers and the remaining 20 percent of the time selling. This rule, at least in the very beginning, can put your audience at ease and make them more likely to heed your marketing tweets.
Informality and Humor
Uptight, technical language is a huge turn-off for today's social networking customers. They want their favorite companies to be funny, engaging, and insightful. Use relaxed language and avoid complex language that will bore your audience.
Promotions
What customer does not love a good bargain or a special promotion? When you want to keep your audience engaged, you should offer promotions to help them save. These fun tweets will encourage them to follow you and be on the lookout for deals with your company.
Behind the Scenes
When you want to break down the formal barrier between you and your customers, you can use your Twitter posts to take them behind the scene at your business. Show them some of the processes involved with making their favorite goods and services. Introduce them to the technology that you utilize in your company. These peeks behind the scene will help them feel closer to your company and more knowledgeable about the things they buy from you.
Helpful Tips
Along with promotions and behind-the-scene peeks into your company, you can engage your customers by offering tips that they may find useful and interesting. A tweet about how to use your product or service better will make them more likely to come back and buy from you again. It also makes them feel like they are getting their money's worth from the products or services they get from you.
Staff Introductions
Entrepreneurs know that they are only as good as the people they have working for them. If you have a great staff that you want your customers to know about, you can use Twitter to introduce them. When customers see that you appreciate your workers, they are more likely to have a favorable opinion of you and your company.
Strong Biography and Profile
When you create your Twitter account, be sure to build a strong profile that introduces you, your company, and your products or services. Your profile should include a professional photo of you and what philosophies you have about running a business and serving customers.
Tweet Often
Your customers are going to be on the lookout to see how often you tweet. If you get lazy and let your account go quiet, your audience will think you do not care about them or about their loyalty. To keep their favor, you must tweet regularly.
Pictures and Videos
Your followers will lose interest if you fail to mix up your tweets. Along with worded tweets, you can keep their interest and still market to them by using pictures or posting videos about your company, products, and services.
Brand Incorporation
People will be more likely to find and follow you when you incorporate your brand or your passion into your username. Pairing your name or your company's name with a catchphrase or action word like "Sells" will help you grow your brand on this site and make you more recognizable to your followers.
Be Genuine
Twitter users can detect insincerity in your tweets. When you want to market to your audience, you need to be genuine, honest, and upfront with them. This sincerity will gain their trust and help them become loyal followers.
Keywords and Hashtags
When you want to know what people are searching for and want to buy, you can do a keyword search online. Using relevant keywords helps your tweets gain prominence and more likely to garner the attention of both existing and potential customers. Likewise, hashtags allow you to join in conversations on Twitter, another key way to engage your customers online.
Link through Other Social Media
Most business owners maintain several social networking sites. Along with their Twitter accounts, they may also have accounts on Facebook, Pinterest, and Tumblr. When you want your marketing efforts to have the widest reach, you need to link your Twitter account to your other accounts. You also must use social media plugins on your company's homepage.
Use Twitter Resources and Third-Party Sites
Until you become adept at using Twitter, you may find it challenging to learn how others are talking about you and your brand. Sites like Tweetdeck and HootSuite allow you to key into those online conversations and give you an idea of how well you are connecting to your ideal audience.
Likewise, if you are unsure of whom to follow yourself on Twitter, sites like Tweepi and Insightpool can help you identify people or companies that will be of most use to you. This information can help you build a strong network and give you the exposure you want on Twitter.
Twitter can be a valuable marketing asset if you use this site to your advantage. These tips can help you make the most out of your Twitter account and build your desired customer following.