How
to
Win
the
Local
Utah
SEO
Superbowl
by Jet Digital Marketing

Hits: 6544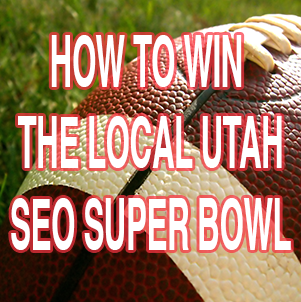 Making the right plays, strategizing, and having the right members on your team are all important parts to winning with local Utah SEO, just like winning a football game. It is important before you start implementing your local SEO techniques to have a clear view of what it takes to win against the big dogs. You want to move your rankings up the search engines, just like you would move a football down the field, and here are the important steps to do it.
Kickoff: Google My Business
Google's new local format "Google My Business" is a must for every local business. This format integrates Google+, Google Maps, Google Places, Google Analytics and more right into one destination. Making sure this is setup and optimized correctly for the web is critical for digital marketing success. When completing your profile, make sure to fill your "introduction" with rich content, keywords related to your business, and a link to your homepage. Under the "category" section, find every possible category that is in your industry and add this to your profile as well, this will increase the relevancy of your listing to searches on Maps and on the search engine results page.
Google will also send you a verification code to unlock even more fun!
Running Play: Claim Your Utah Business Listings
One of the easiest and most affordable SEO services you can complete yourself to make sure your site is locally optimized is to claim all of your local business listings. Many marketing companies have lists of hundreds of different directory listings you should put your business under, but we believe in just a small few that will help you get the high-quality rankings you want, leaving out the other less-important players.
Here are 8 of our favorite business listings
Defensive Play: Optimize Your Local Utah SEO Listings
Whenever you are building a profile on a different site, whether it is a directory, social media profile, or another site is recognizing your business because it is outstanding, you should always remember your basic SEO techniques that should be added to each profile. Compile a list of your top 10 keywords you want your business to rank for, and try to implement those keywords strategically and organically throughout your profiles.
But be on the defense, and do not "keyword stuff" as we call it, meaning using too many keywords that it looks unnatural to users and search engines. You want these keywords to be locally targeted to your business, ones that will get clicks from exactly the type of leads you are looking for. These keywords are usually developed by a team of SEO professionals, and can be a great help to your business. To get your list of keywords to add to your business listings relevant to your business and with low competition, sign up for a free keyword research report today!