Take
Control
of
your
Website:
Your
Website
Explained
in
Four
Simple
Sections
by Jet Digital Marketing

Hits: 8440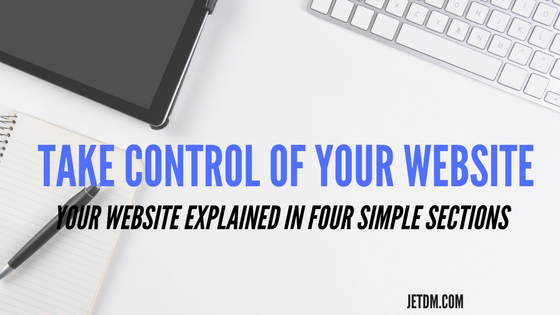 Many business owners and clients I talk to don't fully grasp the structure of their business's website. This can be an extreme disadvantage, and can lead to problems like:
Paying for online services that you don't need
Believing you own your website and its content—when you actually don't
Feeling powerless against GoDaddy customer support and/or your web development agency
Accidentally taking down your website
I want to explain 4 sections of your website that will simplify your understanding of how your website is structured, and put you in a power position to negotiate with your web development agency and experts alike.
Hosting
Hosting is a services that allows your website to be stored on what some people might call "the cloud." Essentially, your website is just a bunch of folders and files, and these need to be stored somewhere for use. Hosting allows those folders and files to be stored and shown on the web. This is a service that is paid for—usually monthly—and provided by your web development agency or a company like GoDaddy or Bluehost.
Your Domain Name
When purchasing your domain name, you buy rights to use specific URLs like www.mywebsite.com and mywebsite.com. You can purchase these URLs through GoDaddy, Bluehost, your web development agency, Shopify, etc. My recommendation would be to use a service like GoDaddy to purchase your domain name. Usually a domain name is paid for yearly, at prices ranging from $3 a year to thousands of dollars a year.
The first time you purchase your domain name it will most likely be discounted, with the next years pricing at full price. Keep that in mind when renewing your domain name, and make sure you are fully aware of the renewal prices. This service is separate from hosting, and billed separately.
Your Content Management System
A content management system (CMS) is what allows you to make edits to your site's content. If you are familiar with Wordpress, this is the area you would login to on your website with the URL that usually includes /wp-admin, and where you can add blog posts, images, pages, products, etc. If you have access to your CMS and can edit text and images on your website, this does not mean that you have full control of your website.
Many clients and business owners I have talked to are not aware that they not only need to have access to their CMS, but they also need to be in control of their hosting and domain name in order to have full ownership of their website. It is critical that you make sure you have full control, ownership, and access to all of these areas of your website! Why? If you ever want to leave your web development agency and take your website with you, you need to be able to take your CMS, hosting, and domain name with you as well; if you can't, you might be put in a very sticky situation!
Your Website's Security
This section of your website is what turns your URL from http:// to https://, highlighted in green. You might hear it referred to as an "SSL" from the experts. This security feature is useful on your website if you are handling credit card payments or sensitive customer information on your website. It is always a good idea to have an SSL on your website, but sometimes not fully necessary.
If you have a site that is primarily a brochure of your business for your prospective clients to view and get a better idea of who you are, an SSL might not be needed. On the other hand, if you are selling products on your website or prompting your customer to fill out a form that includes entering their social security numbers into that form—or entering other sensitive information—definitely use an SSL. This feature is usually paid for yearly through a company like GoDaddy or your web development agency.
Understanding these four sections of your website will put you in a much more powerful position when negotiating with web development experts, and in making sure you are setting up your website in the most advantageous way possible.
Thank you for reading our blog, and I hope this gives you a better understanding of your own website and helps you take better control of what you are paying for with your online service providers. If you have any further questions about your website, give us a call and we would love to help you out!