The
Importance
of
a
Title
Tag
for
SEO
by Jet Digital Marketing

Hits: 6525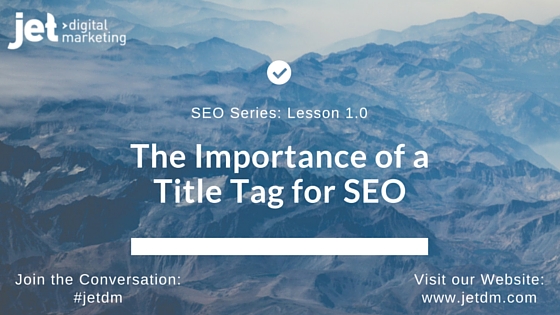 When people look up keywords online, they want to visit pages that are most relevant to their search. By using title tags, you demonstrate to searchers that your page has the content for which they are looking and the services or products they want.
When you want to utilize title tags to your page's advantage, you should learn what they are and why they can be one of your best online resources.
What is a Title Tag?
A title tag, sometimes called a title element, is simply an introduction to your website. It reveals the title of your document and gives a preview of the content that will be found on your page.
It acts in the same manner as a chapter title in a book. It gives an indication of what your page is all about and what kinds of products or services can be found if they visit your website. A title tag is most often displayed in three different places:
The browser chrome or tab
The search engine results page
External websites, especially social networking sites like Facebook or Twitter
Title tags are vital to searchers' overall user experience and are critical in the social sharing of your website. They also play a significant role in the search engine ranking of your page.
Title Tags and SEO Importance
As noted, your page's title elements are important to your website's search engine ranking. They indicate how relevant they are to a user's search and also play a key role in your page's browsing.
Well-written title tags increase your website's visibility and make it more likely that your page will be ranked higher than your competitors' site. When your page is more visible, you entice higher traffic volume, which in turn helps your site rank even higher.
Moreover, higher traffic to your website should in theory lead to higher click-through rates. When more people follow through with checking out other parts of your website or buying products or services from your page, you in turn garner higher rankings. Title tags are an essential part of any successful page owner's SEO strategy.
Creating the Best Title Tags
Once you understand how vital title tags can be to your website's success and visibility, you may wonder how best to create them. Creating the best title tags for your page is not difficult. In fact, by using some basic strategies, you can come up with tags that will serve your page well and help you increase your ranking.
First, it is important that you make your title elements relevant to your page's content. You do not want to write tags that are misleading or only slightly relevant to the content that people will find discover when they visit your site.
Second, your tags should be concise and short, spanning between 50 to 60 words. Google only allows for title tags to fit within a 512-pixel space. If your tags are too long, Google will cut them off and replace the remaining words with ellipses.
Because you only have 50 to 60 words to preview your page's content, it is important as well that you pack a proverbial punch with each word in your title tag. Make each word count and ensure that your title tags are as engaging and informative as possible. They are the first interaction that people will have with your brand. You want your title tags to be concise, interesting, and most of all, positive.
You also want to make sure you strategically place your keywords in the title tags so that they will be displayed in search engine results, in browser tabs, and in external websites. You should place them toward the front of your title tag rather than place them at the very end. Early placement of keywords will increase your site's visibility.
Even so, you should avoid keyword stuffing, which can result in duplicate tags and lower your ranking. Each title tag that you create should be unique and fresh, ensuring that your site is ranked as high as possible and that more people find it when they search for your keywords.
Title tags should be a vital part of your SEO strategy. You can create the best title tags for your page by learning what purpose they serve and how they can benefit your page. If you found these tips useful please share it with your friends, and check out my other related blog posts for maximizing the effectiveness of your SEO strategies; How to Develop Keywords that Convert and The Complete 8 Step Blogging Guide for the Busy Business Owner. Follow Jet Digital Marketing on Twitter and Facebook for all the latest insights into growing your business online. Contact us today if you would like to learn more about our full service digital marketing solutions.