Top
10
Facebook
Tips
for
Small
Business
Owners
by Jet Digital Marketing

Hits: 5286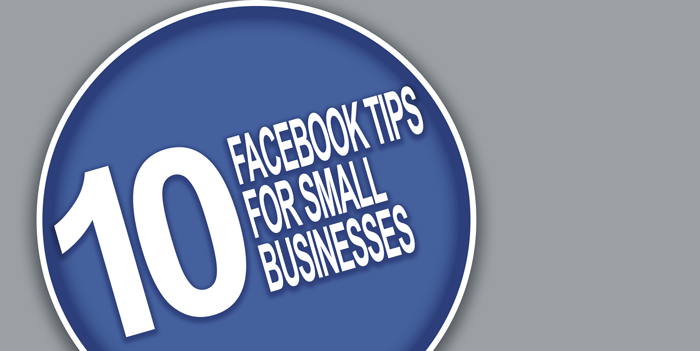 Marketers in days past could only dream of having a platform that allowed them to engage with the public any time of the day or night. Companies used to spend millions of dollars per billboard to get as many eyes on their brand as possible. That same level of exposure can now be reached in just a few minutes on Facebook.
A Facebook page is a level playing field where emerging brands have just as much digital real estate to work with as major corporations like Pepsi, Nike and Apple. However, Facebook is a marketing tool that must be used wisely to be used effectively. Your brand could be throwing away priceless marketing opportunities by failing to develop a smart strategy for engaging with Facebook users. If you're looking for simple ways to increase your brand's clout on Facebook, create a new strategy using our list of the top 10 rules for Facebook engagement for small business owners.
1. A Picture Is Worth a Thousand Likes
Facebook's own data shows that posts consisting of photos receive more likes, shares and feedback than any other type of post. This goes to show that people are more compelled to engage with a static visual image than with wordy status updates, links or videos. Brands have a bit of freedom when it comes to the type of photos they post. If your brand produces scrumptious foods or stylish apparel, it's a great idea to use alluring photos that showcase your product. If your brand is centered on providing a service, it may be beneficial to post photos of real customers or attentive staff members. It is also smart to diversify posts by adding photos from pop culture or sharable photos that contain popular memes.
2. Spark Conversations
A conversation is a two-way street. Today's consumers want to be invited to become part of a conversation instead of having information flung at them. Posting questions that encourages unique, creative or opinionated responses is a great way to give users the feeling that they have stock in your brand's conversation with the world.
3. Become an Authority on Your Niche
Building trust and familiarity is important when it comes to building relationships with followers and customers. Your brand's Facebook page is the perfect platform for showcasing how knowledgeable and passionate your brand is about the type of product or service you provide. Followers can quickly shut off their interest if every one of your posts is merely an advertisement for what you offer. You can earn credibility by posting links to useful articles or providing quick tips that help your followers enhance their lives, save money or simply live better. This type of engagement helps your followers to feel like you're looking out for them instead of merely trying to convince them to purchase something. Building a reputation of helpfulness and credibility may make customers more likely to trust you when it is actually time to purchase the product or service you offer.
4. Timing Is Key
Popular posts don't just happen by accident. It's important to pick strategic times when your posts will have the greatest impact. Social media scientist Dan Zarrella reports that Facebook likes peak at 8 p.m. on weeknights. While individuals are more likely to receive feedback on their posts during the week, brands are more likely to receive likes and comments on weekends. The theory behind this phenomenon is that a slower social media cycle on the weekends actually gives brands less chatter to compete with on Facebook news feeds. Some studies show engagement being 14 percent to 17 percent higher on weekends. Additional studies show that Thursday and Friday are peak days for user engagement during the work week. Monday, Tuesday and Wednesday see the least amount of engagement. A large amount of lunchtime Facebook users results in 1 p.m. being a peak time for post shares. Rush hour is also a popular time for likes and shares.
5. Turn Engagement into a Game
It's easy for a brand's posts to get lost in a shuffle of news tidbits and advertisements. You need to give your followers reasons to get excited about seeing your posts pop up on their news feeds. Contests are perfect for getting users excited and encouraging them to share your posts. Many brands choose to host giveaways and contests that encourage creativity from followers. You can post a weekly photo caption contest that encourages your followers to provide funny captions for images. There are many software applications available that make keeping track of an online contest and selecting a winner simple. You can also put your followers in the spotlight by promising to share any photos they upload of themselves wearing or using your product.

6. Provide Exclusive Promotions
Followers are more likely to keep following your brand if they perceive that keeping in touch benefits them somehow. Make your Facebook page a place where users gain access to exclusive promotion codes and deals. Be sure to supply codes that allow for a certain percentage off of your product or service for Facebook followers only. You can also use your Facebook page to exclusively announce flash sales that will last for very limited windows.
Something unprecedented is happening in the world of marketing. You no longer need to be a multimillion-dollar brand with a budget that allows for television ads in prime time in order to have your message seen. Facebook's advertising network allows brands of all sizes to tap into a highly targeted audience. Instead of casting a wide net that may or may not reach your demographic, you can tailor Facebook ads to reach people in the geographic area, age range and gender group your brand is targeting. You can also tailor your ads to target people who are interested in a virtually limitless number of categories that range from hobbies to personal habits. A solid Facebook ad campaign can lead to increased likes, more visits to your company's website and heightened brand awareness.
8. Tap into Trending Topics
Facebook engagement is an ongoing journey. It is important for a social media manager or business owner to continuously monitor Facebook for trending topics in order to create relevant posts. Of course, it is advisable to stay away from controversial topics or provide opinions that may isolate some of your followers. A wise approach is to take opportunities to tie events in popular culture to your brand through witty or humorous posts.
9. Be Friendly and Responsive
You should never post and run. Every Facebook post you create should be monitored for reactions. Be sure to read through all the feedback that your followers provide and do your best to answer any questions that are left. Part of successfully managing a Facebook page is allowing your wall to be a space where customers work with you to resolve issues and complications. It is important for brands to respond to both negative and positive feedback. Let your followers know how pleased you are when they share positive reviews. Of course, you must also show your followers how seriously you take their satisfaction by doing all that you can to resolve problems they've encountered with your brand. Knowing that a business owner or representative is taking time to read Facebook comments can boost the public's perception of a brand.
10. Create Posts Every Single Day
Frequency is everything on Facebook. The quick pace of the Internet means that brands need to find new reasons to get in front of the eyes of their customers every day. By crafting thoughtful and engaging content, you will cut the risk of creating fatigue among your followers or getting ignored. Be sure to vary your posts between hot topics, promotions and useful tidbits that will make your brand a credible voice that is worth following.
Facebook is your brand's personal billboard. Seize the opportunity to build an audience for your small business by focusing on engaging your followers and providing useful, shareable content that does more than just create noise. Taking time to build a strategy that hinges on the tips provided here may help your small business become a big name on Facebook.