Top
Reasons
Small
Business
Owners
Need
Local
SEO
[Infographic]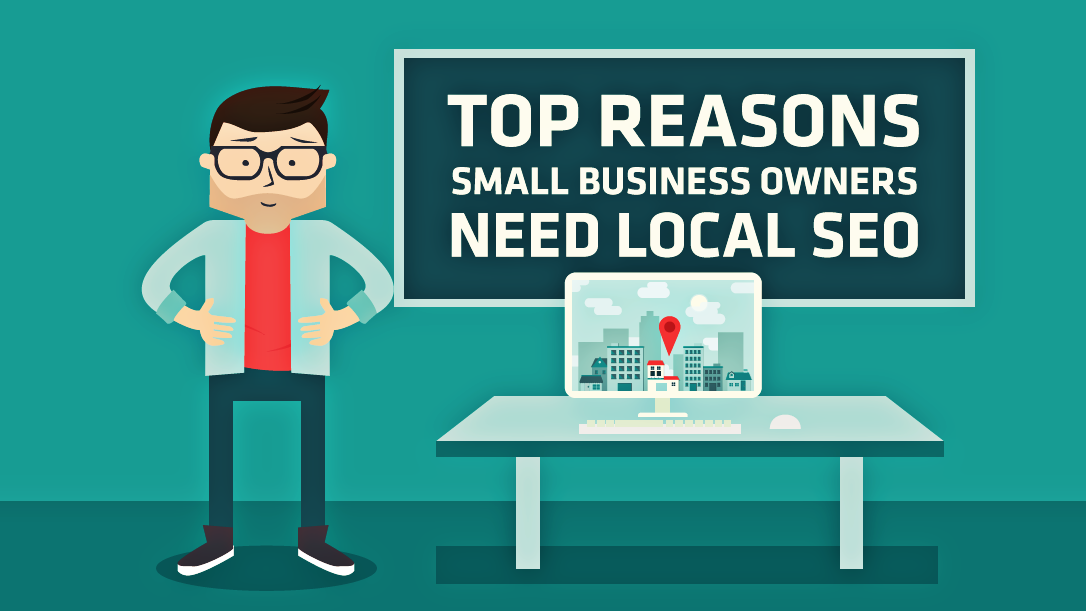 Your local market can be your greatest asset when it comes to growing your company. The consumers in your immediate area greatly influence how well your business gets off the ground and how successful it can be now and into the future. When attracting customers in your vicinity is part of your game plan, you should utilize local SEO for these important reasons.
Greater Visibility
With Google's recent algorithm changes, businesses who make use of local SEO services enjoy greater visibility than businesses who adhere to traditional SEO practices. Local SEO can give your business higher rankings and also get your company before a larger audience.
Mobility
More people rely on their smartphones to help them find websites and businesses. Local SEO goes hand-in-hand with mobility. When you choose local SEO, you ensure that your business will become accessible through mobile searches and also through resources like Facebook Nearby.
Authenticity
Recent studies have shown that more people trust local search engine results than those produced through organic searching. Local SEO gives your business the authenticity that people look for when searching for area businesses online.
Further, people today often prefer to do business with local companies rather than national or international companies. Local SEO ensures that these consumers know that you own and operate a business in their immediate area, making it more likely that they will choose you over a national competitor.
Reviews
Another advantage that comes with local SEO involves having your immediate audience provide authentic reviews for your business. Many consumers today rely on online reviews to help them decide whether or not to shop with local companies. When your business starts getting reviewed by people in your area, you in turn could see higher traffic and sales conversion.
As Forbes magazine contributor Steve Olenski points out in 6 Local SEO Strategies for Small Businesses, it is important that you ensure that those reviews are positive and authentic. You should avoid rewarding customers who review your business, for example. Instead, you should invite your audience to give reviews by providing a review link or button on your website or social networking pages.
Brick and Mortar Tie-In
Finally, local SEO ties your brick and mortar location to your business' online presence. Along with checking out website or reading the reviews of your company, potential customers will also have resources to find out where your business is located, how to contact you, and what hours you are open for business. Even if you provide these details on your website, they also will be available to people immediately when you use local SEO.
Reaching your local audience is a vital component of a successful small business SEO strategy. Local SEO provides you with these key advantages that can help your company achieve long-term success.
If you found these tips useful please share it with your friends, and check out my other recent blog post; 10 Easy Ways to Build Small Business Brand Awareness Online. Follow Jet Digital Marketing on Twitter and Facebook for all the latest insights into growing your business online.