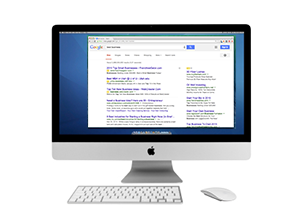 For your company to get to the first page of Google, there are multiple things that need to happen. First, you need to have a site that is indexable by Google. Second, you need to have a scalable SEO strategy in place for your site so that you can optimize the times your website shows up for all of your key terms. Third, you need to implement that strategy on an ongoing basis. 
We can help you create a scalable SEO strategy that you will be able to use and implement for the lifetime of your site and your business. Our goal is to create customized SEO solutions for each business we work with that will build their brand name, get them more leads, and increase their site's authority so they will complete the journey to the top of Google searches and position themselves there for a long time. 
The SEO strategy starts with defining the vision, mission, and goals of your business are. Once we understand your business, we can then delve into doing keyword research to find which keywords--if clicked on a search in Google--will get your site the most valuable leads and lead generation opportunities, or provide you the most value based on your vision, mission, and goals. Then, we implement our ongoing SEO strategy that includes building high-quality links to your site from websites like Forbes, Entrepreneur, Inc, etc, and investigate the code in your site to find places for SEO improvements. 
This is just the tip of the iceberg when it comes to what we can do for your business in terms of SEO, and we would very much enjoy talking through more of this with you! If you are looking to find out more information about Salt Lake City SEO, contact us today and get started learning what you can do for your business to increase leads and grow your business!