7
Beginner
Local
SEO
Tips
Every
Small
Business
Owner
Should
Know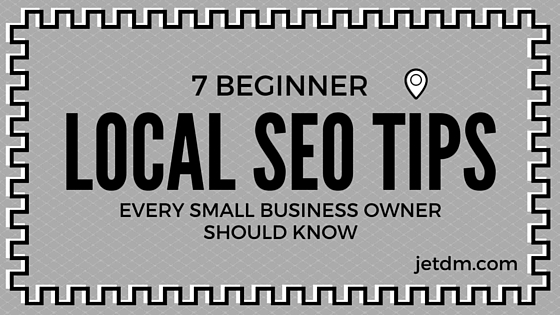 Every small business needs to know about the techniques of local SEO in order to be visible to new leads and customers online. Here is a great list of tips for a small business to begin gaining traction online locally.
Your local clientele is crucial to your business' everyday success. Even if you do long distance business with clients on the Internet, you may still rely greatly on the people in your immediate area to boost your profits and bolster your cash flow. When you want to establish a business that will thrive and attract the favor of local clients, you should utilize these seven beginner local SEO strategies from the first day that you start your company.
Use Local Keywords
One of the most basic tips that you should utilize involves using local keywords in your online content. Local keywords can be as simple as your city's name. A local keyword could also be the name of one of the neighborhoods or school districts in your area.
Get Listed in Local Directories
Another important tip to remember centers on getting your business listed in local online directories. Along with Google Places, you should also get your company listed on directories like Bing,Yahoo Local, and Merchant Circle, among others. When your company is listed on directories that are specific to your area, you make it easier for your clients to find you online.
Utilize Location-Specific Landing Pages
If you do business in more than one city, you should create location-specific landing pages on your company's website. Including sub-folders on your site that come complete with the state, zip code, and other geographic details for each area in which you do business will make it easier for your clients to find services that are tailored for their particular service area. This tactic makes it easier for clients to discover details that they need to establish an active relationship with your company. They can find important details like your location, phone number, and other details that they will need to contact you and shop at your business.
Provide Consistent Information
Regardless of where you advertise and promote your business, you must provide consistent information. Some of the more common places that companies today promote their businesses to local audiences include social media, directories, and online map sites. Each of these locations should all contain the same information such as your company's address, phone number, and even your business' name. This consistency will eliminate any doubt that customers may have about your business and also avoid the risk of them being confused of more than one business having the same or similar name.
Claim Your Domains
Along with getting listed in local directories, it is also important for you to claim your domains in these directories. Some of these online sites will list local businesses; however, if the owners fail to claim and register them, the site could list false or outdated information. By claiming your domains, you seize control over your websites and also gain the leeway to update or change the information as you see fit.
Utilize Blogs and Social Media
Of course, you may already realize that blogging and posting on social media can draw in customers. If you have yet to establish social networking accounts or starting a blog for your website, you should take advantage of this strategy today. Blogs and social media marketing provide free, simple ways to promote your business and also use local keywords in an online location that will catch the attention of a wider audience.
Use Fresh Content
Fresh content is also important to getting your business listed and promoted in your local area. Your fresh content should include important details like news that is relevant to your city and your company. You can also regularly update details about sales, specials, and new inventory or services.
These seven simple beginner's SEO tips are key to attracting local clients to your business. You can build a profitable and successful business once you have the attention of customers that live and work in your area.
If you found these tips useful please share it with your friends, and check out some of our other related blog posts like The Complete 8-Step Blogging Guide for the Busy Business Owner, or the Top Reasons Small Business Owners Need Local SEO. Follow Jet Digital Marketing on Twitter and Facebook for all the latest insights into digital marketing and growing your business online. Contact us today if you would like to learn more about our digital marketing solutions.