Mobilegeddon
2.0:
Why
Having
a
Mobile-Friendly
Site
is
Critical
in
2016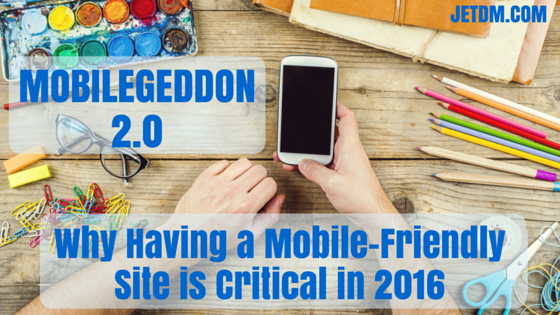 A marketing trends study last year revealed that 51 percent of people now use mobile devices over desktop computers to access the Internet. This increase in mobile device usage demands that website owners take note and consider the benefits of making their sites mobile-friendly. If these increased numbers are not enough to convince you, however, you may be persuaded by considering the other top reasons for why it is imperative that you have a mobile-friendly website in 2016.
Search Engine Rankings
Google has taken note of the increased mobile device usage by stating that it will reward mobile-friendly websites with higher rankings. Starting in May, Google will continue to urge website owners to create websites that can be accessed by and displayed correctly in mobile browsers. Websites that fail to make this change to their SEO strategy could see their rankings fall.

If you are ready to create a mobile-friendly version of your website, you may wonder just how to get the process started. These tips can give you the direction and inspiration you need to launch a successful site that can be easily accessed by smartphones, tablet computers, and other devices.
Ease of Use
One of the more important aspects to consider when designing your mobile-friendly website involves making it as easy as possible for mobile visitors to use. Keep in mind some of the more common reasons for why they may be visiting your site's mobile version, such as looking for:
Your business' physical address

Your company's phone number, email address, or other contact details

Blog posts or other entertaining features on your site

Sales, coupons, and fliers
Making these tasks as easy as possible as well as streamlining your site's purchase and checkout processes will keep people coming back to your mobile website and also could help you garner a higher search engine ranking.
Design and Template
Google urges website owners to use the same design or template for both their desktop website and its mobile version. Using the same design or template, a process known as Responsive Web Design or RWD, offers you benefits like:
Minimizes risks of glitches or technical problems

Cuts back on the work you must put into maintaining two different site versions

Optimizes visitors' user experiences to both versions of your website

Could lead to more site visits and a higher conversion rate
Although Google could support two versions of your website, it recommends that you take advantage of RWD so that you can keep your focus on running a successful online venture and also achieving a higher ranking.

These tips seem simple enough to follow. Even so, you should learn about some common missteps that people make when designing mobile-friendly versions of their websites. You can create a successful mobile-friendly site by avoiding mistakes like:
Failing to make your site usable with working links, streamlined checkout processes, etc

Failing to use the same domain for both your desktop site and your mobile website

Avoiding checking out other mobile-friendly websites for inspiration and guidance

Forgetting to consult a professional web developer for help
These missteps can cost you your ranking and also keep customers away. When you have created a mobile version of your website, you can also make sure it is ready to launch by using several online resources that Google makes available to you. These tools include:
By using these resources and also keeping these other tips in mind, you can reach out mobile device users today and maintain or increase your website's ranking online.
Looking for more tips on mobile friendly websites and SEO? Check out this blog post about Adwords Mobile: 10 Best Practices for PPC on Mobile Devices. Or if you are a Star Wars Fanatic like most of us at Jet Digital Marketing, check out our May the 4th blog post from last year on Walking the Path of White Hat SEO. Follow us on Twitter and Facebook for all the latest insights into digital marketing and growing your business online. Contact us today if you would like to learn more about our digital marketing solutions.