On
Page
SEO
vs
Off
Page
SEO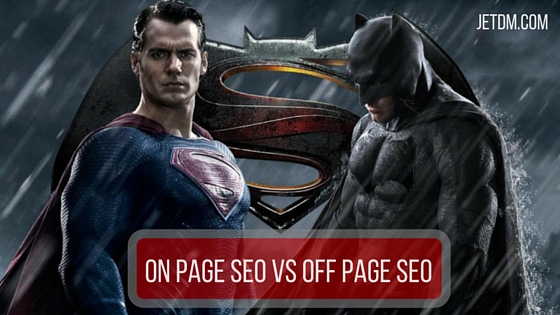 Outbesting your competitors and rising to the top of the search engine rankings is a never-ending battle. You must keep a fair number of different strategies in your arsenal if you want to keep your website ahead of those who wish to unseat you.
A sound battle plan should include devices for using both on-page and off-page SEO strategies. You can shield yourself against rivals and improve your site's ranking by employing both of these SEO approaches.
On-Page SEO
On-page SEO is, as its name implies, search engine optimization methods utilized on your business' actual website. This approach entails a number of different facets, starting foremost with your website's content.
The content is the primary reason for why users search out your page. They expect you to meet their demand and also provide them with the information, products, or services that they want or need.
However, more than meeting users' demands, you should also ensure that your content is linkable. Linkable content plays a significant role in how high your site is ranked. If you take measures to prevent its "linkability", such as requiring users to log in before viewing the content or including AJAX-powered image slides, you put your website's ranking at risk and give the advantage to your more SEO-savvy rivals.
Other on-page SEO facets that should be on your website include:
Properly formatted title tags that contain primary and secondary keywords

Keyword-appropriate

150 to 160-character meta descriptions
URLs that reflect the pages' hierarchy
Appropriate ALT attributes and filenames that ideally contain keywords if possible
When you employ these on-page SEO devices, you create a strategy that should keep you one step ahead of your competitors. These elements are crucial to on-page SEO and should be a prominent part of your business' website.
Off-Page SEO
Off-page SEO also plays a significant role in how high your website is ranked. The strategies in this approach seem rather common sense; however, if you overlook even one of them, you could jeopardize your website's ranking.
One of the primary aspects of off-page SEO involves link building. Link building itself can be a challenge and require that you devote some time to this important task. Nonetheless, it is crucial to proving that your website is reputable and worthy of a higher ranking.
Additionally, you should also make sure that your website is mobile-friendly. With more people using mobile devices like smartphones or tablets to browse the Internet, you need your website to be accessible on mobile browsers. Mobility is an increasingly important aspect of off-page SEO.
Key performance indicators, or KPIs, are likewise important in an offensive SEO game plan. Some of the KPIs you will want to keep track of include:
Bounce rate
Time spent on your website
Non-home landing page impressions
Finally, sound off-page SEO involves making sure your website loads faster than those of your competitors. You can check your website's loading speed with resources like Google's PageSpeed Insights tool.
If you wonder which one you should devote more time to, you should realize that both on-page SEO and off-page SEO are equally important allies. When you are serious about getting the proverbial leg up on your competition, you need to use both of these strategies equally and avoid favoring one over the other. In doing so, you will have valuable SEO resources at your disposal.
The battle to conquer search engine ranking rages on. You can remain on the offensive and win against your rivals with these wise SEO strategies.
Looking for more tips on Search Engine Optimization and building your companies online presence? Check out some of our blog posts like The Obstacles to Becoming an American SEO Ninja Warrior and 10 Easy Ways to Build Small Business Brand Awareness Online. Follow Jet Digital Marketing on Twitter and Facebook for all the latest insights into digital marketing and growing your business online. Contact us today if you would like to learn more about our digital marketing solutions.