6
Steps
to
Find
the
Right
Keywords
to
Target
for
your
SEO
Strategy
by Jet Digital Marketing

Hits: 4748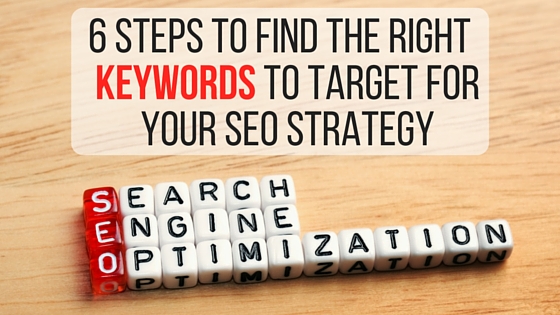 Are you looking to create an SEO strategy for your website? The first step to a great SEO strategy is having a great list of keywords to target for your website. This is essential even before creating your website to make sure that you are showing up in search engines for search terms that are more likely to get you customers. Read our article on 6 steps to find the right keywords to target for your SEO strategy to make sure you create a searchable website! 
(1) Utilize Google's "Searches Related To" Suggestions
To get started brainstorming what keywords and search terms to target for your SEO strategy, search for a general term about your business on Google and look at the "searches related to" suggestions at the bottom of the page for ideas on long-tail keywords or what to write your blogs about. This will give you an idea of what people are searching and what terms get a lot of traffic according to Google.
(2) Look at Google's Auto-Fill Results
Another good tip for brainstorming keywords is to start searching for something related to your business, and then look at the auto-fill results that popup as you are typing in your keyword into Google's search bar. This will give you an idea of keyword terms that get a lot of traffic related to your search term.
(3) Find Keywords with Google's Keyword Planner
Once you get an idea of what people are searching on Google, you can go one step further and use the Keyword Planner to find relevant keywords related to your business. Enter these search terms you discovered above into the "find new keywords and get search volume" search box to find other keywords that are relevant to your business.
(4) Keep Track of your Keywords in an Excel Sheet
As you are finding these search terms and keyword strings, keep track of this long list of keywords or search terms that you think are relevant for your website in an Excel sheet. If you are creating a list of keywords for your blog, you might consider adding some "how to" search terms to your list. Although these will not be keywords that will instantly convert to customers, these types of keywords are great to keep in your list so that you widen your audience of traffic, and condition certain users to keep visiting your site for information until they become a customer. If you are wanting to find more search terms that can get you calls to your business, try adding some keywords that contain "services" or "buy."
(5) Take Out Keywords that are Only One or Two Words
Remember when developing this list that you want to stay away from one word or two word search terms. These are generally very broad search terms and do not lead to conversions necessarily. You want to remember that your keywords should be highly targeted to your business's services. The more targeted, the better!
(6) Verify Your Keyword List with an SEO Specialist
Once you have a list of keywords you are thinking of targeting for your website or blog, make sure to validate them with an SEO specialist. They might have more insight as to which keywords are going to be the most helpful, and which keywords to get rid of. An SEO specialist's insight can be extremely valuable in developing a keyword list and an SEO strategy that will build your website's ability to be able to appear in search engines at the same time as building your website's credibility.
Happy keyword hunting!
Looking for more tips on SEO, website optimization and building your companies online presence? Check out some of our blog posts like Google Chrome Browser Tools for SEO and On-Page SEO vs. Off-Page SEO. Follow Jet Digital Marketing on Twitter and Facebook for all the latest insights into digital marketing and growing your business online. Contact us today if you would like to learn more about our digital marketing solutions.