Keys
to
Surviving
the
SEO
Apocalypse:
The
Four
Horsemen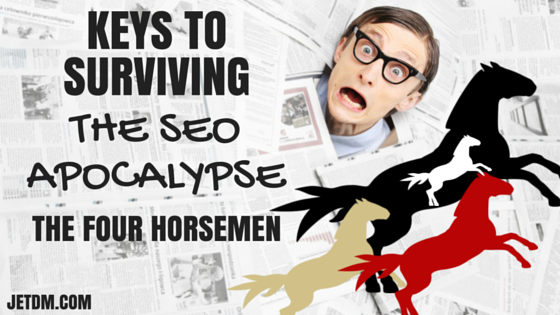 Rumors of SEO's demise continue to make their rounds in the online business arena. While market insiders remain confident about its future, you still may want the protection that comes with aligning your website with the best allies available to you online. You can grow an infinitely successful online venture, garner a higher ranking, and survive any search engine rapture that might befall less cautious website owners by fighting for your business alongside the Four Horseman of the SEO Apocalypse.
The White SEO Horseman: Conquering the Fundamentals of Website Optimization
Optimizing your website is key to getting the traffic you need to profit as an online business owner. Out of the tools you should keep in your proverbial saddlebag, keywords stand out as one of the most important.
You should choose your keywords carefully, making sure to take punctuation, spelling, and capitalization into consideration. You likewise should be mindful of keyword stuffing, but use those that you have chosen carefully in your meta description and title tags as well as near the top of your page and cautiously in your on-page content.
Making sure your website displays properly also should be at the top of your optimization to-do list. Use HTML for a better display and also avoid flash files, Java applets, and other non-text content. Resources like MozBar and SEO-browser.com help you determine if your website will display properly.
The Red SEO Horseman: Warring to Provide Quality Content
The quality of content that you include on your site is important in your SEO Apocalypse battle. Your site's content should be:
Useful and informative
More valuable than other sites' content
Credible
High-quality
Engaging
Taking steps to ensure that your on-page content is fresh, original, not mass produced, authoritative, and full of imagery will keep customers coming back to your website and help you garner the high search engine ranking you want.
The Black SEO Horseman: Avoiding Virtual Famine with Brand Recognition
A lack of brand recognition could irreparably starve your website of the clicks it needs to survive. You can build your brand and get it out there before a wider audience by using smart local SEO tips like putting your brand name in your title tag.
This strategy also could help your website perform well in national sites because it gets your brand's name before more eyes online. Even if your website is not ranked as high as your competitors, its brand name and if possible your keywords being included in your title tag could help customers recognize and gravitate toward your online business.
The Pale SEO Horseman: Cheating Death with Manual Link Outreach
Many website owners use automated link building to boost their sites' ranking. However, automated link building inevitably results in an impersonal and even fictitious relationship that could be the eventual undoing of your business.
Alternatively, manual link outreach helps you build a personal and meaningful relationship with those with whom you share your content online. This approach takes time, effort, and research on your part. However, it can breathe new life into your website and keep it from the precipice of an SEO apocalyptic end.
Even so, it helps you find the perfect sites with which to link, ones that are authoritative and relevant to your own website. By creating such a personalized relationship with others online, you make use of the real purpose of the Internet, that is to connect with others, and also help boost your site's search engine ranking.
Presumably no one can predict the hour and day when search engine optimization will meet its end. You can discover the revelation for online success, profit, and higher rankings by saddling up with the Four Horseman of the SEO Apocalypse.
Looking for more tips on Search Engine Optimization and building your companies online presence? Check out some of our blog posts like The Obstacles to Becoming an American SEO Ninja Warrior and On-Page vs Off-Page SEO. Follow Jet Digital Marketing on Twitter and Facebook for all the latest insights into digital marketing and growing your business online. Contact us today if you would like to learn more about our digital marketing solutions.