The
Rise
of
Google
Shopping
Ads:
What
They
Are
and
Why
They
Are
Important
by Jet Digital Marketing

Hits: 3204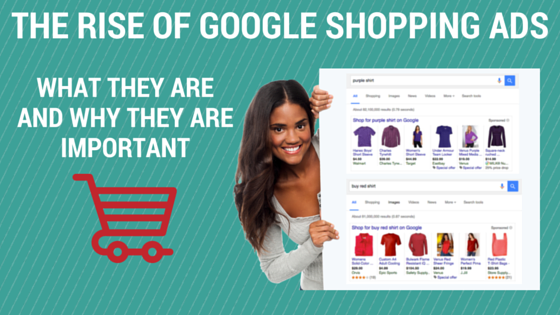 For retailers, Google Shopping ads are the latest way to promote online and offline inventory. Through ads, retailers can find new leads and increase website traffic. Retailers can reach out to the customers who are actually looking for the retailer's products and develop returning customers. These ads include a photograph of the product, the store name, a title for the ad, a price and a description.
What Are Google Shopping Ads?
Google Shopping ads are basically a new way to advertise product listings online. If someone searches for "ugly sweater" online, Google places listing results for retailers who are selling ugly sweaters. This means that retailers who place a Google Shopping ad can ensure that their website is on the first page of search results for consumers. Customers like Google Shopping ads because it allows them to immediately find retailers who have the right product. Meanwhile, retailers love shopping ads because it lets them connect with clients that they normally would have missed out on.
Why Are Google Shopping Ads Trending?
Google Shopping ad clicks currently account for 53 percent of all clicks on search ad listings. Normally, advertisers try to optimize their website for people looking for specific products. While organic search results bring in some sales, there are thousands of retailers competing for the same sales. With Google Shopping ads, retailers are able to list their product below the search results and reach out to more consumers. The design is perfect for mobile devices, so the rise in shopping on mobile devices has fueled an increase of buyers for Google Shopping ads.
How Google Shopping Ads Work
Basically, the retailer creates an advertisement that includes the company's name, images of the product, the product's name and price. When someone searches for the specific product or keywords, the retailer's product appears under the search results. Retailers only pay when someone clicks on the link to view their product or website. The Google Shopping ads appear next to normal search results, so they are easily discovered by customers.
What Are the Benefits of Google Shopping Ads?
There are numerous benefits of using Google Shopping ads to reach out to customers. These include:
Better Leads: Google Shopping ads ensure that the retailer only connects with buyers who actually want the company's products. The images in the ads also ensure that the buyer knows what to expect before they click on the link. Since the retailer only pays for clicks on the ad, this reduces the amount they have to spend by focusing only on customers who actually want the product.
Larger Presence: Instead of reaching out to local consumers, businesses can find customers across the world.
Increased Traffic: Google Shopping ads help websites to attain more traffic. These advertisements can have up to triple the normal click-through rate.
Accessible Data: The digital nature of the advertisements allows retailers to view how different products, advertisements and customers respond.
Retail-Focused Campaigns: Shopping ads focus on the product and the product's features, so the ads are driven by retail-centric campaigns.
What Makes Google Shopping Ads Different From Google Text Ads?
In essence, the Shopping ads are more effective than text ads because they reach out to consumers who actually want a specific product. Additionally, customers are more likely to click on images. By including the product's image in the listing, companies are able to draw in more consumers and website traffic.
Looking for more tips on search engine optimization and building your brand's online presence? Check out our recent blog posts about Mobilegeddon 2.0: Why Having a Mobile-Friendly Site is Critical in 2016. Or the Keys to Surviving the SEO Apocalypse: The Four Horsemen. Follow us on Twitter and Facebook for all the latest insights into digital marketing and growing your business online. Contact us today if you would like to learn more about our digital marketing solutions.